We carry theHVAC Invoices you need to grow your business like the 6531-3 HVAC Service Order / Invoice. This form was designed with HVAC in mind. The right hand side has columns and check boxes for the work to be done. The left side has plenty of room for notes and totals related to the HVAC job. Your Company Imprint and Logo are always free.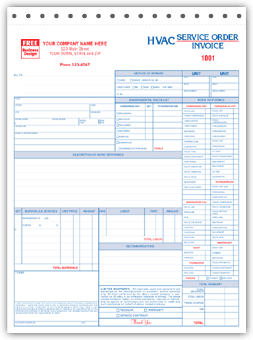 All of our HVAC Invoices are backed by the strongest guarantee in the industry. If you are not completely satisfied with any product, at any time, or for any reason, regardless of fault, we will replace or refund your order.
We now have:
301 Piece Starter Kit $114.00
Request a Free Sample of This HVAC Estimate.